1-4. Search Results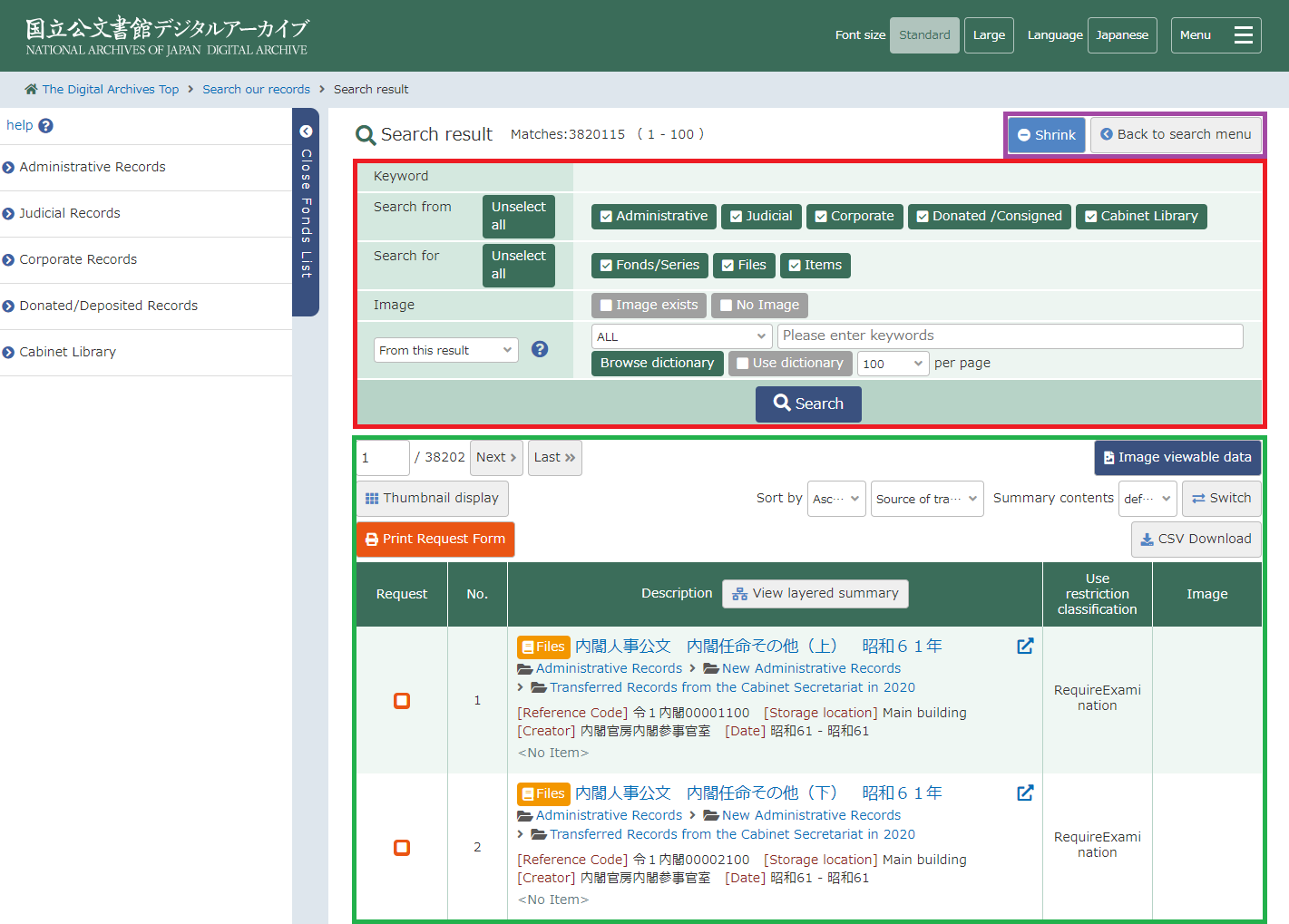 1. Menu Links (Purple frame)
The following link is shown by the situation.
Back to search menu

Back to Keyword search screen. The condition that you entered in Keyword search screeen is kept.

Expand/Shrink

Show or Hide the "Keyword Search (Green frame)" fields.

Fonds/Series Detail

(Fonds/Series selected)Display a detailed information of selected Fonds/Series.

Files Detail

(Files selected)Display a detailed information of selected Files.

List

(Files selected)Display a Fonds/Series that include selected Files.

Back to Items list

(Items selected)Display a Files that include selected items.
2. Keyword Search (Red frame)
画面右上にある「検索条件を隠す」をクリックすると非表示になります。
By clicking "Shrink" in the Menu Links, you can close "Keyword Search".
See "1.3.3 Keyword Search".
3. Search Results List(Green frame)
1-4-1. Search Results List
Search results are displayed. By clicking the title of record, you can display the detailed information.
For detailed information, see "1.5 Detailed Information of the record".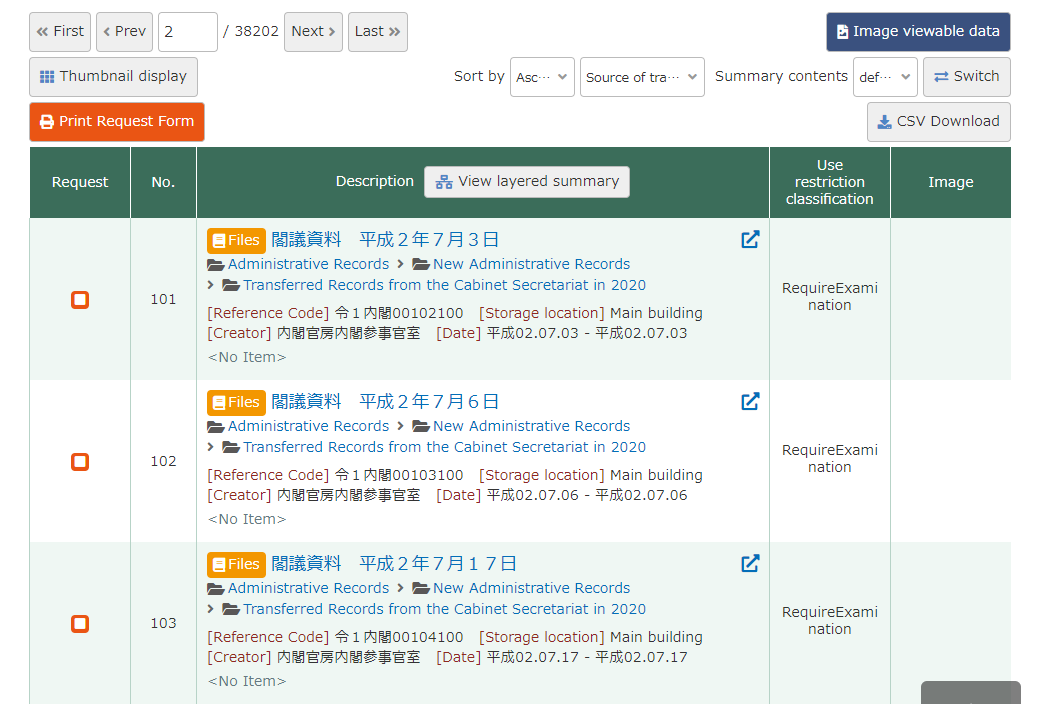 For explanation of information of Search Results, "1.3.4 Search Results".
Summary Type
For description display, You can choose "normal summary" or "layered summary". Default is "normal"
The way to change the summary type is as follows:
Click "View layered summary" next to the summary information to switch to the "Hierarchical View".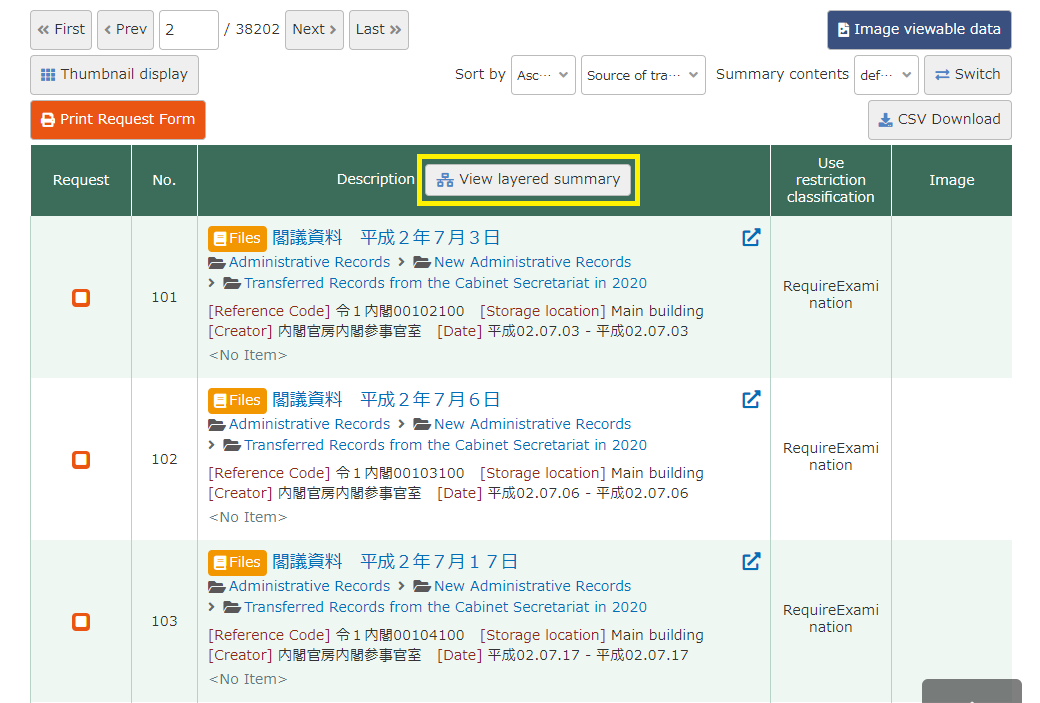 Clicking "View layered summary" will display the documents according to their hierarchical structure, as shown below.

1-4-2. CSV download of catalog information
The catalog information (request number, title, etc.) of the search results can be downloaded in CSV format.
Click "CSV Download" on the search result list screen to download the CSV file.
* If the number of search results exceeds 1000, the first 1000 results will be downloaded.